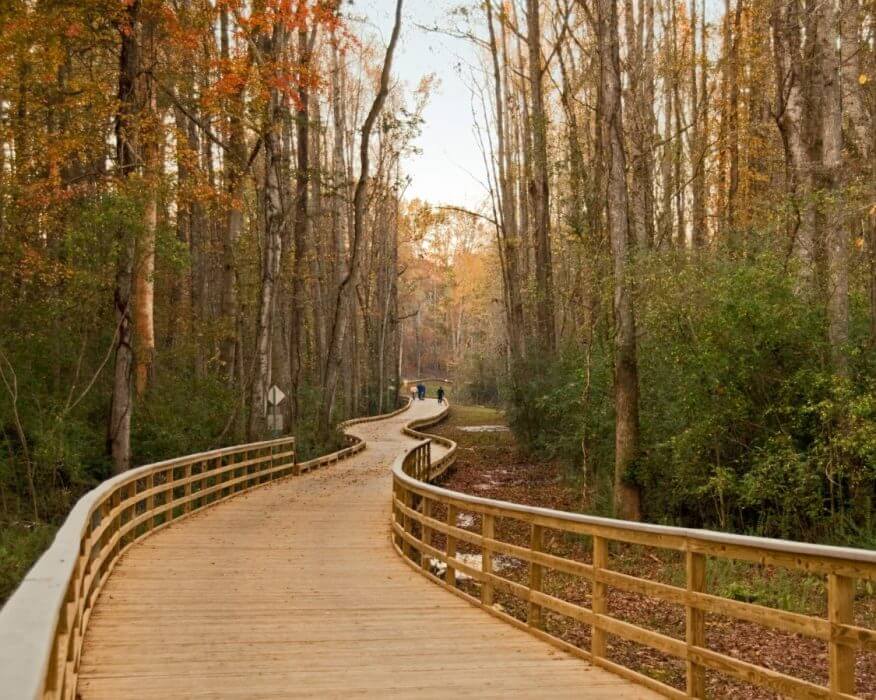 If you are a runner, walker, cyclist, or like me and looking for a place to stroll around with your kids, the Big Creek Greenway is a great place to spend half a day or so in Cumming over the weekend.
The Greenway is part of the Forsyth County Parks & Recreation Department.  It's a linear (straight) paved trail that is all about conservation, recreation, environmental education and alternative transportation. The trail is 12 feet wide and 9.6 miles long.  It's paved with concrete and has once side for biking and one for jogging, walking, and everything else.  The are benches if you want to catch your breath (that's where you'll find me) and four restrooms along the path.
The woods along the Big Creek are beautiful, and the Greenway is a picturesque experience.  If you have your furry friends with you, dogs are allowed but only if they have a leash.  I highly recommend checking it out and taking advantage of this awesome trail we right in our backyard.
Hours of Operation:
March thru October – 6:00 am to 9:30 pm
November thru February – 6:00 am to 7:00 pm
Access Points:
5120 Bethelview Road – parking and bathrooms
4110 Carolene Way at Fowler Park – parking and bathrooms (Follow the signs inside the park.)
1622 McFarland Parkway – parking for approximately 50 vehicles and portable bathrooms
5259 Union Hill Road – parking for approximately 25 vehicles and bathrooms
The Big Creek Greenway rules, map, and other information can be found on the Forsyth County Parks & Recreation website.